Attic Insulation in Simsbury, Longmeadow, & South Windsor MA and CT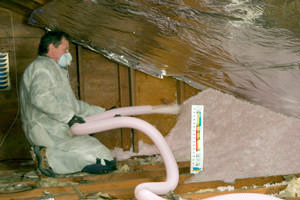 Blow-in or blown fiberglass insulation is a good choice when insulating your attic. A special machine shreds the fiberglass and then blows it through an application hose to properly cover and insulate the space. Dr. Energy Saver can provide blown cellulose, blown fiberglass, fiberglass batts or denim batts for different applications.
Upgrading attic insulation is a VERY popular energy-saving improvement because more energy (and money!) is lost through the attic than through any other part of the house.
What makes matters worse is improperly or poorly installing inadequate attic insulation. Existing attic insulation in many homes may be as minimal as R-19-- which pales in comparison to the recommended R-value!
Going through a cold winter with so little insulation is like wearing a t-shirt in a snowstorm. What your house really needs is the equivalent of a thick down-filled parka.
The U.S. Department of Energy recommends between R-49 and R-60 of attic insulation in Simsbury, South Windsor, Longmeadow, and other areas. That's at least a 16-in.-thick blanket of fiberglass insulation!
Increase the R-value, air seal leakage, and enjoy energy savings and comfort!
Contact us today to schedule your home energy evaluation to identify where your home is in need of more insulation. Our evaluation also diagnoses the other energy issues in your home-- which may be the larger factors in your home's high utility bills and discomfort.
We offer Free Estimates for Attic Systems attic insulation in Longmeadow, Simsbury, South Windsor, Suffield, Granby, Wilbraham, Windsor, Chicopee, Springfield, Tolland, and the neighboring locations. We also offer a unique system called the SuperAttic™ System, which adds a continuous & airtight layer of foam insulation beneath the attic rafters and inside the attic's gable walls.
Before and After Photos From Previous Jobs
Before

After

This homeowner was experiencing a lot of air leakage in their attic. creating cold drafty rooms as well as heat loss in the winter. The heat loss created an increase in the cost of heating the home. By air sealing all of the gaps with our foam insulation and blowing in Dr. Energy Savers TruSoft cellulose insulation, it created a more comfortable environment for the entire home and family. Our TruSoft cellulose insulation is treated with natural borate compounds. By doing this we have created a higher R-value in the space as well as decreasing the energy costs, making the rooms below a comfortable living space for the customer and their family.

Before

After

This homeowner experienced huge amounts of air leakage which caused heat loss in the winter and conditioned air in the summer, driving up energy costs for heating and cooling the home. Our team installed the Super Knee Wall system, which uses SilverGlo rigid foam insulation. These panels create a continuous air and insulation barrier beneath the roof of the home. With the Super Knee Wall insulation installed, the homeowner was able to experience a significant change in their energy consumption as well as their energy costs.

Before

After

This homeowner in Simsbury, CT had called us out because he had ice dams on his home in the winter. AS we know, Ice dams can damage your home pretty severely. So to stop this we took a look around the house and saw a knee wall with only fiberglass insulation in it. This insulation is clearly not doing its job because if it was, there would be no ice damming. To stop this from happening again, we start by removing all the old fiberglass insulation. Then we use our SilverGlo foam board insulation to block the floor bays. This stops cold air from getting into the floors and making that part of the house have inconsistent temperatures. When that is done, WE start to put up the runs of SilverGlo insulation. Its very important to air seal between everything to make an air tight seal so the heat you pay for in the winter does not head up the roof deck and cause ice damming. After that we dense pack down the slopes from the attic to insulate behind the SilverGlo we just put up. Now that we have properly insulated this knee wall space, this home owner will not have to get out the roof rakes to break up the ice damns ever again!
Importance of Air Sealing and Insulating Attics
Larry Janesky explains that insulation is also needed in warmer areas. Insulation prevents heat transfer. It prevents hot air from being transferred to the outside in the wintertime, and prevents the attic's scorching heat from being transferred into the living areas of your home during the summer.
Air Sealing Goes Alongside Attic Insulation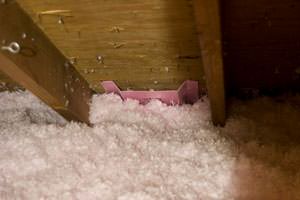 Baffles keep ventilation channels open. Plastic spacers are installed between rafters in the attic to maintain a vent space beneath the roof surface after new insulation is installed.
Air sealing is a critical step when insulating an attic because sealing air leaks stops conditioned interior air from leaking into the attic. Dr. Energy Saver uses a variety of materials and techniques to stop this energy-wasting air leakage.
Installing baffles ensures proper attic ventilation. Sized to fit between the rafters in the attic, plastic baffles maintain a ventilation space between the attic's soffit vents (located along the eaves) and the ridge vent. Installing baffles before adding more attic insulation helps avoid damage from ice damming and excess moisture.
Old insulation can be reused, most of the time. As long as the existing insulation is not wet, moldy or overly compressed, it can usually be put back into place after the attic has been air-sealed and before new insulation is installed.
Start Saving Energy and Money With An Attic Insulation Upgrade.
Call 1-855-229-7070 or contact us online to schedule a home energy evaluation or a Free Estimate for home insulation in South Windsor, Longmeadow, Simsbury, Hartford, Springfield, Chicopee, West Hartford, and in and around Windsor, Suffield, Granby, Tolland, Chicopee, Springfield, Wilbraham, and Pittsfield.
Be sure to check out our specialized SuperAttic™ System for continuous & airtight coverage.
Looking for a price? Get a no cost, no obligation free estimate.